MinneFAIR Informational Webinar for Hiring Professionals
August 6, 2018 | 12:00 pm

-

1:00 pm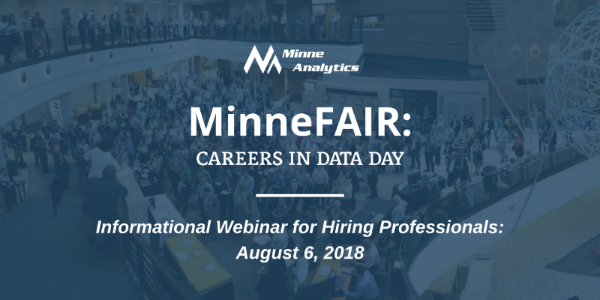 Join us for an informational webinar about our first-ever MinneFAIR: Careers in Data Day. This WebEx is for recruiters and organizations and will include a short presentation followed by Q & A.
About MinneFAIR
MinneFAIR: Careers in Data Day is Friday, October 12, 2018 at Optum Corporate Conference Center in Eden Prairie.
We're taking a whole new approach to the job fair—student participants will have scheduled interviews with employers, giving aspiring analytics professionals the opportunity to connect with hiring professionals in a meaningful way. This event is perfect for recent or soon-to-be college graduates, as well as organizations and recruiters seeking data science and analytics talent.
Learn more at http://minneanalytics.org/minnefair
To learn more or get involved contact the organizers at careerday@minneanalytics.org.