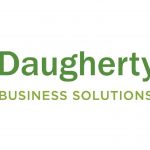 Website Daugherty Business Solutions
Imagine being a part of an organization that is lucky enough to help companies (Fortune 500 to mid-size to start-ups), in a variety of industries, build out their data analysis, reporting, data visualization and analytics teams.  Through coaching, prototyping, and teamwork, you will help to empower  individuals of all skill levels, from highly varied backgrounds, to discover value through data analysis and visualization.  As a consultant on our Data & Analytics team at Daugherty this is what you will be tasked with daily!
We are looking for people who are/can…
Innovative, fast-paced, and adaptable both when facilitating events and outcomes
Capable of presenting analytical outcomes in a format easily understood by business
Ability to tell compelling data-based stories
Gifted in presentation and data visualization skills and have the proven ability to create well-crafted analytical presentations
Experienced in multiple data visualization technologies such as Tableau, Microsoft Power BI, Alteryx etc…
Create reports and dashboards for varying levels of the organization (operational through executive management).
Develop enterprise reporting strategies for clients with multiple disparate data repositiories
Elicit business requirements from various end clients to help solve their problems
We offer members of Team Daugherty:
Excellent health, dental and vision insurance.
Revenue sharing and a 401(k) retirement savings plan.
Life, disability and long-term care insurance.
Little to no travel.
Robust career development and training.
At Daugherty Business Solutions, we believe that a fusion of insight, talent and technology makes companies run better. If you think that you would be a good fit for Team Daugherty, then apply today!