The third-annual data science challenge drew 65 student teams from colleges and universities across the Midwest.
As if there weren't enough riding on the 2018 midterms, some college students were paying attention to the results for another reason. This year's MinneMUDAC Student Data Science Challenge tasked teams of graduates and undergraduates with predicting voter turnout for the midterm elections in Minnesota.
After several weeks of working on the challenge question, participating teams gathered at Optum in Eden Prairie on Nov. 3 to present their results. More than 100 professionals and faculty members from the community volunteered to serve as competition judges. 
Teams competed for cash prizes in one of three divisions: novice, undergraduate and graduate. Unlike past competitions, students were not given a particular data set to work with. While some data sources were recommended as a starting point, students were also encouraged to find their own, adding a new element to the challenge.
"The importance of bringing data together in order to solve a problem is an important skill to learn, and that happened to be part of this competition," said Chris Malone, co-organizer of MinneMUDAC. "Data wrangling is certainly something that data scientists have to do."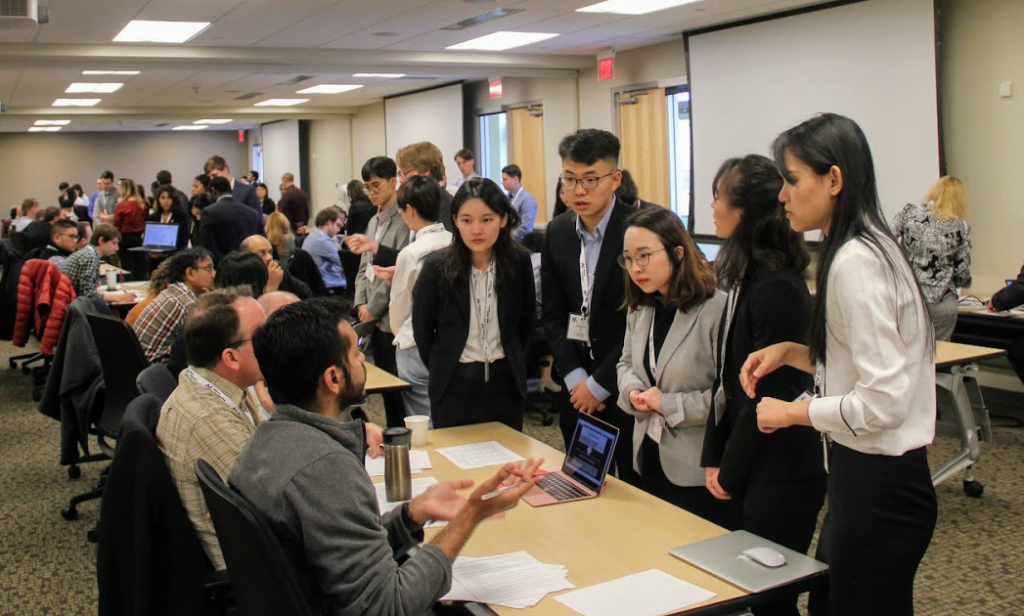 The judging process put students face to face with experienced professionals asking tough questions. Teams were evaluated on several factors, including data preparation, creativity, methods, communication of results, and team synergy. For undergraduate and graduate division teams, the accuracy of predictions was also considered, which meant overall winners couldn't be determined until after the Nov. 6 election.
"It's a good experience and good practice to have to present findings to judges," said Mariah Quam, an undergraduate at Winona State University. "As data scientists, we need to be able to tell a story, especially to non-technical people."
Students utilized a wide range of data sources in the competition. Census data was particularly useful in identifying factors tied to voter turnout—including age, education level and income of potential voters in each district. However, factors affecting turnout are not always easy to measure.
"It was difficult for teams to account for differences in turnout due to the current political climate," said Glenn Trygstad, a MinneAnalytics director who also served as a competition judge. "Teams that went above and beyond, including sources that weren't hard data, ended up doing well."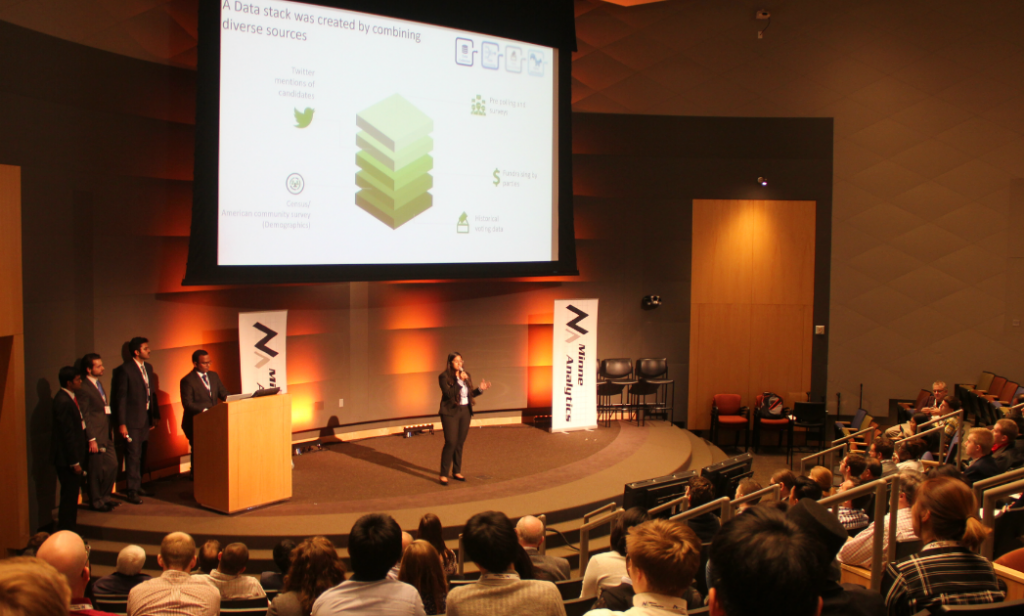 After the initial judging round, finalists were chosen from each division to present their results in the auditorium. This year's event also included a panel discussion with young professionals already working in the data science field, and students were encouraged to ask questions.
"Listening to the panel discussions and watching all of the presentations was an eye-opening experience for me," said Jordan Sellman, an undergraduate student at Metropolitan State University. "I realized that I have so much more to learn and I have never been more excited about all the work I have ahead of me."
Now in its third year, MinneMUDAC represents a partnership between MinneAnalytics and the Midwest Undergraduate Data Analytics Competition (MUDAC). From the beginning, the challenge was designed to give students real-world experience using data to solve problems and present their findings—something that can be difficult to achieve in the classroom.
"The experience for the students is great," said Aaron Shepanik, an associate professor at the University of Minnesota Duluth who served as a team faculty advisor. "Traveling to give a presentation to a foreign audience is just something we can not mimic on campus in a class."
The event also gives students from various fields of study the opportunity to work together as a team. These interdisciplinary, or "blended" teams allow students to benefit from the different strengths and perspectives of their teammates.
"I noticed a high number of teams featuring students from different majors," said Dan Atkins, executive director of MinneAnalytics and co-organizer of MinneMUDAC. "Utilizing multiple skill sets definitely gives teams an edge in the competition."
Thank you to all the students, advisors, and judges who participated in this year's challenge! Photos from the event are available here.
Top Teams
Novice Division
First Place Overall: South Dakota School of Mines and Technology – SD Mines Data
Faculty Advisor: Beth Riley
Analytical Acumen Award: University of Wisconsin-Eau Claire – Datavengers
Faculty Advisor: Abra Brisbin
Serendipitous Discovery Award: University of Minnesota Duluth – We R SASsy Dogs – The SQL
Faculty Advisor: Tracy Bibelnieks
Undergraduate Division
First Place Overall: St. Olaf College Mathematics – Junior Varsity Stats
Faculty Advisor: Paul Roback
Analytical Acumen: University of Iowa Management Science – TippieAnalytics Team 1
Faculty Advisor: Michael Altemeier
Serendipitous Discovery: University of Minnesota College of Liberal Arts Economics, Statistics – Team Korea
Faculty Advisor: Glen Meeden
Best Prediction: University of Minnesota Duluth Department of Management – Duluth's Data Dragons
Faculty Advisor: Nik Hassan
Honorable Mention Prediction: St Olaf College Mathematics, Statistics, and Computer Science – Model Citizens
Faculty Advisor: Paul Roback and Matthew Richey
Graduate Division
First Place Overall: University of Minnesota Twin Cities Carlson School of Management Masters of Science in Business Analytics – Phi-Data-Kapa
Faculty Advisor: Yicheng Song
Analytical Acumen: University of Minnesota College of Science and Engineering Mathematics – Women in Math
Faculty Advisor: Gilad Lerman
Serendipitous Discovery: University of Minnesota Duluth College of Science and Engineering – Hotdog
Faculty Advisor: Aaron Shepanik
Best Prediction: University of Minnesota, Twin Cities Biostatistics – Gophers
Faculty Advisor: Mark Fiecas
Honorable Mention Prediction: Metropolitan State University Management – Data Chasers
Faculty Advisor: Firasat Khan