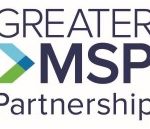 Website GREATER MSP
GREAT MISSION. GREAT PEOPLE.
GREATER MSP PARTNERSHIP
The GREATER MSP Partnership is a cross-sector partnership of over 300 of the region's leading businesses, universities, cities, counties, foundations and community organizations. The overall partnership is supported by a 501(c)(3) nonprofit organization. GREATER MSP provides leadership to grow the economy of the 15-county Minneapolis-Saint Paul area and to create inclusive economic opportunity for all residents of the region. Together, we shape and deliver an economic development strategy that prioritizes capital investment, racial equity and inclusion, job growth, and talent attraction and retention. GREATER MSP executes goals by collaborating with leaders from our partner organizations on a portfolio of accelerating strategic initiatives including Make It. MSP., Forge North, ConnextMSP, MBOLD, and the Regional Air Services Partnership. Our work is informed and supported by a robust research and intelligence center.  Together, we are better!
POSITION OBJECTIVE
This position prepares and manages economic data and analytics to frame and further GREATER MSP projects and initiatives. Working with the Vice President of Research & Intelligence, this position plays a critical role in supporting platforms and partners with data, information, and
intelligence that advance the mission of the GREATER MSP Partnership and the regional economic development strategy.
PRIMARY RESPONSIBILITIES
Regional economic data analysis, benchmarking, modeling, and visualization for internal and
external audiences
Prepare data that is used for research, analysis, and intelligence to support all platforms at GREATER MSP, including Business Investment, Marketing & Communications, Make It. MSP., ConnextMSP, Forge North, Regional Air Services Partnership, MBOLD, and Business Bridge
Identify current and emerging data, analytics, and research needs related to GREATER MSP platforms, projects and initiatives
Manage data collection, analysis, maintenance, and overall execution of economic insights platform tools and surveys, including the Regional Indicators Dashboard
Collect data, conduct research, and develop briefing materials on potential actions to address needs of GREATER MSP platforms
Manage individual RFI (Request for Information) responses and develop formal proposals for
Business Investment activities related to business attraction, expansion, and retention
Support Marketing efforts via information collection, analysis and layout for external-facing collateral
Prepare intelligence from economic data and research to be used for executive summaries and talking points, white papers, board meetings, Leadership Councils, executive
presentations and speeches, news articles, blogs, GREATER MSP special events and public Commitments
Oversee and maintain research databases, electronic files, online resources, and paper documentation
Respond to staff, partner and key constituency inquiries and requests via telephone, written, and electronic communication. Initiate communications with these parties as appropriate
Balance multiple priorities, working independently or participating as part of a cross-functional team, keeping others informed through clear written and verbal communications, while maintaining a high level of productivity
Develop recommendations and opportunities to support organizational marketing initiatives including identification of prospects for potential recruitment to the region
Collect, analyze, and distribute information on key regional industries and technologies to economic development partners, recruitment prospect and marketing organizations
Manage/supervise Research & Intelligence interns or contractors, when applicable
Contribute to the efficiency of the organization by performing other duties and participating in special projects as assigned
QUALIFICATIONS
Experience
Minimum 2 years of related work experience in similar role or post-graduate research experience
Education
Undergraduate degree in business, economics, data science, urban and regional planning, statistics, or related field preferred
Required Skills
Strong analytical skills and creative thinker who can develop innovative solutions using research and analytics
Data preparation and business analytics
Excellent oral and written communication sills
Excellent organizational, planning, problem solving, quantitative, and project management skills
Familiarity with economic and community development issues, local government structure, and/or civic agency operations preferred
Proficient in Microsoft Office Suite
Mapping (GIS) and data visualization (Tableau or other) software skills a plus
Experience working with data.census.gov and ACS Public Use Microdata a plus
This description covers the primary purpose and principal duties of the job. It is not intended to give all details or a step-by-step account of the way each procedure or task is performed.
CULTURAL COMPETENCIES & COMMITMENT
Entrepreneurial spirit
Exhibits high integrity
Ability to be proactive & take initiative
Demonstrated success working in teams
Hardworking, humble approach to work
Consistently provides quality results
Responsible work ethic
Demonstrated cross-cultural competency
Highly motivated by challenges
Value and vision driven
Positive can-do attitude
Well organized habits
Reliable with ready-to-help disposition
Positive approach to problem solving
WORK ENVIRONMENT
The physical demands described here are representative of those that must be met by an employee to successfully perform the essential functions of this position. Reasonable
accommodations may be made to enable individuals with disabilities to perform the functions.
Physical Demands
Have the ability to lift/move <30 lbs.
Have the ability to stand and sit for extended periods of time
Have the ability to use a computer and converse on the telephone for extended periods of time
Have the ability to get to and from meeting sites
Office Environment
The noise level is typical for an office environment
The office environment is temperature controlled
Travel Requirements
Access to a reliable vehicle to commute to and from meetings often within 30 miles of the office
There may be national and international travel required to events and conferences as needed
Health & Safety
GREATER MSP is committed to providing and maintaining a safe and healthy workplace in accordance with the CDC and Minnesota State health advisory guidelines. Please contact Human Resources at 651-287-1300 for policies and protocols.
APPLICATION PROCESS
A background check is required prior to the first day of employment. A background check may consist of, but not limited to, a criminal history check, employment reference check, social security and address verification, drug tests and an education verification. All qualified applicants
will receive consideration for employment without regard to race, color, creed, religion, disability, sex, age, ethnic or national origin, marital status, sexual orientation, gender identity or presentation, pregnancy, genetics, veteran status or any other status protected by federal, state, or local laws.
By completing this application, you are seeking to join a team of hardworking professionals dedicated to consistently delivering outstanding service to our customers and contributing to the financial success of the organization, its clients, and its employees. Equal access to programs, services, and employment is available to all qualified persons. Those applicants requiring accommodation to complete the application and/or interview process should contact a management representative.
GREAT MISSION. GREAT PEOPLE.
GREATER MSP connects top talent with engaging career opportunities by offering a competitive salary commensurate with experience and a generous benefit package.
GREATER MSP PARTNERSHIP VALUES
Accountability | Alignment | Inclusion | Innovation | Transparency