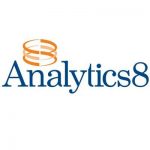 Website Analytics8
Companies win when they can make sense of their data. They lose when they don't.
Analytics8 equips companies to thrive with data so they can succeed in business. We provide data and analytics consulting services that allow companies to make smart, data driven decisions. We partner with our clients to transform their data into knowledge and unlock valuable information so they can move from insights to action.
A Senior Consultant has deep technical expertise in implementing BI and DWH projects and has several years of successful consulting implementations. Senior Consultants are proficient at managing small projects and are able to handle the scope/cost/timeline tradeoffs for single projects. They are able to gain confidence of customers and have a track record of extending projects and identifying additional projects for customers. A Senior Consultant should continue to broaden and deepen technical skills while starting to focus on business and project management skills. While working at a customer site, Senior Consultants will take an active role in pursuing sales upsell opportunities.
JOB REQUIREMENTS
Advanced knowledge of BI/DW development methodologies, dimensional modeling, standards and procedures.
Advanced Level SQL experience
Advanced level experience in the following toolsets: Cloud Architecture, Data Integration Tools (ETL), Business Intelligence Products, and Data Visualization Tools
Conduct comprehensive BI and DWH systems evaluations
Advanced understanding of network and system architecture integrating multiple source systems (ERP, CRM, etc) with DWH and BI technology
Proven ability to manage client expectations with regards to scope, cost, and timeline
Control scope and content development make tight deadlines
Track record of a high quality of work; resulting in extended engagements and satisfied clients
Analytics8 is an Equal Opportunity Employer.