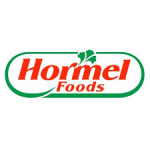 Website HormelFoods Hormel Foods Corporation
Inspired People. Inspired Food.™
ABOUT HORMEL FOODS — Inspired People. Inspired Food.™
Hormel Foods Corporation, based in Austin, Minn., is a global branded food company with over $11 billion in annual revenue across more than 80 countries worldwide. Its brands include Planters®, SKIPPY®, SPAM®, Hormel® Natural Choice®, Applegate®, Justin's®, Wholly®, Hormel® Black Label®, Columbus® and more than 30 other beloved brands. The company is a member of the S&P 500 Index and the S&P 500 Dividend Aristocrats, was named on the "Global 2000 World's Best Employers" list by Forbes magazine for three years, is one of Fortune magazine's most admired companies, has appeared on Corporate Responsibility Magazine's "The 100 Best Corporate Citizens" list for 12 years, and has received numerous other awards and accolades for its corporate responsibility and community service efforts. The company lives by its purpose statement — Inspired People. Inspired Food.™ — to bring some of the world's most trusted and iconic brands to tables across the globe. For more information, visit www.hormelfoods.com and http://csr.hormelfoods.com/.
Summary:
We are looking for a Senior Data Engineer to lead the Supply Chain pillar of our IT Analytics team.  This is an exciting opportunity to help grow and modernize Supply Chain analytics at Hormel Foods!  Individuals interested in this position will need strong communication skills, communicating up, down and across the organization.  You will be responsible for managing simultaneous initiatives that require innovative problem solving.
You will use tools such as SQL, Oracle Business Intelligence, Tableau, Google Cloud Platform, Python and Informatica ETL to engineer data pipelines and data models to enhance enterprise reporting and analytics.  Additionally, you will engineer reports, dashboards and visualizations using enterprise business intelligence tools (Oracle and Tableau).
Specific competencies include:
Data Structures and Models – Designs, develops and scales the overall database/data warehouse structure based on functional and technical requirements.  Designs, develops and scales data collection frameworks for structured and unstructured data.
Data Pipelines and ELT – Designs, applies and scales data extraction, loading and transformation techniques in order to connect large data sets from a variety of sources.
Data Performance – In complete autonomy, troubleshoots and fixes for data performance issues that come with querying and combining large volumes of data.  Accounts for scaled performance in initial design.
Visualizations and Dashboards – Gathers requirements, designs and develops reports, dashboards and visualizations with multiple sources that meet business needs.  Understands data and ideates ways for business to leverage data in innovative ways.
Responsibilities:
Works directly with the Supply Chain business unit to understand their analytics needs and gather requirements for analytics solutions
Engineers advanced physical and logical data models for dimensions and facts within the staging, warehouse and semantic layer of our enterprise data warehouse or data lake
Engineers and performance tunes Informatica ETLs to move data from a variety of source systems and file types to fit into dimensional data models
Utilizes advanced SQL within Informatica ETLs or Oracle SQL Views when necessary to achieve proper metric calculations or derive dimension attributes
Engineers schedule and orchestration for batch and near-real time data loads into the enterprise data warehouse
Provide issue resolution and maintenance for a large variety of business unit solutions already existing in the enterprise data warehouse
Engineers dashboards within the enterprise business intelligence platform containing reports and visualization that have intelligent user interface design and flow for the business including adequate performance
Required Qualifications:
A bachelor's degree in Computer Science, MIS, or related area and significant experience with business intelligence design and development.
Experience with Supply Chain data analytics
7+ years of experience with reading and writing SQL.
7+ years of experience designing and developing within a business intelligence/reporting tool like Oracle Business Intelligence, Tableau or Google Cloud Platform.
5+ years of experience engineering within a data warehouse or related experience with dimensional data modeling.
5+ years of experience designing and developing ETLs with tools like Informatica ETL, Microsoft SSIS (SQL Server Integration Services), Oracle Data Integrator (ODI), Python.
Excellent written and verbal communication skills.
Proven ability to gather detailed technical requirements to design and develop business intelligence report solutions from beginning to end.
Excellent organizational and time management skills.
Tested problem-solving and decision-making skills.
A strong pattern of initiative.
Highly developed interpersonal and leadership skills.
Must be a Citizen or National of the United States, a lawful, permanent resident, or have authorization to work in the United States
Applicants must not now, or in the future, require sponsorship for an employment visa
Preferred Qualifications:
Engineers within a core metadata model (RPD) including the physical, logical and presentation layers for the enterprise business intelligence platform (OBIEE – Oracle Business Intelligence Enterprise Edition.) Experience with Oracle SQL including advanced functions like analytical functions.
Experience working with Informatica ETL tools
Experience tuning SQL and ETLs.
LOCATION:
Austin, MN – Global Headquarters (Preferred). Secondary location options include locations with a Hormel satellite office including Minneapolis, MN, Bridgewater, NJ, Chicago, IL, Dallas, TX, or Bentonville, AR.
BENEFITS:
Hormel Foods offers an excellent benefits package. Competitive base salary plus bonus, annual merit increase performance reviews, medical, dental, vision, non-contributory pension, profit sharing, 401(k), stock purchase plan, relocation assistance, paid vacation.
TRAVEL REQUIREMENTS: Travel may be necessary 10% of the time.
For immediate consideration, send apply online at: www.hormelfoods.com/careers
At Hormel we invite difference and diversity in all aspects.  We offer a space of support, understanding, and community.  We are committed to the journey!  Learn more about our progress here: https://www.hormelfoods.com/about/diversity-and-inclusion/
Hormel Foods Corporation is an equal opportunity employer.  All qualified applicants will receive consideration for employment without regard to race, color, age, religion, gender, gender orientation, gender identity, national origin, disability, or veteran status.