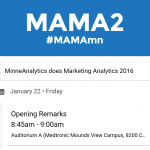 The schedule for MAMA2, our January 22 marketing analytics conference, is up and you may have noticed it looks a little different. MinneAnalytics schedules are now powered by Sched, a powerful platform designed to make planning your event experience easy. Using Sched, you can now:
Personalize your schedule with the sessions you are interested in
Easily access your schedule on your mobile device
Print your personalized schedule
This tool also allows MinneAnalytics to designate session room assignments by gauging interest before the event, creating a better conference experience for everyone.
How do I use Sched?
An invitation to log in to Sched was sent to all email addresses registered for the MAMA2 event. Anyone can view the MAMA2 schedule, but only registered attendees may log in and create schedules. Select which sessions you would like to attend and create your own personal agenda. Check out the MAMA2 schedule here and try it out now!
Please direct questions or concerns regarding Sched to jackson@minneanalytics.org.