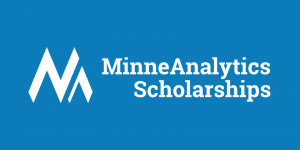 As part of our expanding support of education in data science and analytics, MinneAnalytics has committed $17,000 in scholarships so far this year. This is an increase from 2016 and will allow for a greater number of scholarships supporting the next generation of data scientists.
MinneAnalytics Scholarships are awarded to students who display a passion for pursuing a career in analytics and a commitment to engaging with the community. Initially, twelve universities were asked to nominate a student meeting the criteria to receive a $1,000 award. Each recipients is then eligible for the Grand Prize of $5,000 to be awarded later this year.
MinneAnalytics' support for students has been steadily increasing each year and we look forward to continuing this growth in the years to come. We would like to thank our members and sponsors for making this investment in the future generation of data scientists and analytics professionals possible.
We are eager to hear from more schools interested in nominating a student for a MinneAnalytics Scholarship. Contact Dan@minneanalytics.org for more information. Students, talk to your school about your passion for analytics and community engagement, then have a faculty member contact us.
Participating Colleges and Universities So Far
Bethel University

Hamline University

Mankato State University

Minnesota State University – Moorhead

St. Thomas University

South Dakota State University

St. Mary's University

St. Olaf College

University of Minnesota – College of Science and Engineering

University of Minnesota – Duluth

University of Wisconsin – River Falls

Winona State University