MinneAnalytics is proud to to announce the recipients of two scholarships created for Minnesota's next generation of data scientists and analytics professionals. The 2016 Scholars for Big Data, Analytics and Data Science are Bailey Perry of University of Minnesota, Twin Cities, and Daniel Peters of University of Minnesota, Duluth.
Bailey Perry is graduating in May of 2018 with a major in statistics and a double minor in mathematics and management. She has been awarded to the Dean's List for all four semesters of her collegiate record, and is also part of the University Honors Program. She currently works for the Office of Sustainability on campus as a Data Analysis intern studying greenhouse gas emissions and mitigation strategies. She is also working in a cancer laboratory to help validate RNA-Sequencing data and the software used to analyze it.
Additionally, she has been a peer mentor for incoming freshman to the College of Science & Engineering on campus for the past two years, where she is a resource for questions on classes, professors, and the transition to college. She currently plans to pursue a career in either Environmental Statistics or Medical Statistics, and is considering a Master's degree once she has entered the workforce and gained more experience.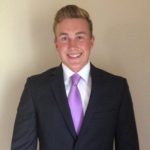 Daniel Peters is a third year student at the University of Minnesota, Duluth (UMD) where he is in the midst of pursuing a triple major in Statistics and Actuarial Science, Mathematics, and Economics. He will graduate in May 2018 and currently involves himself on campus as both a mathematics/statistics undergraduate tutor as well as a teaching assistant for the UMD Mathematics Department.
Daniel is looking for internships and work experience in his respective fields as he explores the wide array of career possibilities that come with his education. He is very interested in the opportunities and real world applications in data, analytics, etc. that are frequent given the problem solving abilities of mathematics and statistics.
Last year the MinneAnalytics Scholarship was awarded to one student in the amount of $5,000. A second scholarship of equal amount was added this year. The scholarships are funded by MinneAnalytics and administered through the Minnesota High Tech Association Foundation.
We would like to thank you, our members, for making this possible through your participation in MinneAnalytics events.