On Aug. 23, MinneAnalytics headed to Boston for our first-ever MinneBOS: Field Guide to Data Science & Emerging Tech in the Boston Community. More than 550 people attended the inaugural event at Boston University Questrom School of Business, which featured 45 sessions from a range of expert speakers. Feedback, both on the day of the event and from the event survey, has been overwhelmingly positive.
"One attendee came up to me and said that not only was this the best value event he has ever attended, but he was also thoroughly impressed with the content," said Sean Larson, MinneAnalytics board member and MinneBOS vice chair. According to Larson, participants were not expecting this value from a free conference. "He and his colleagues were talking about waiting for the catch all day, and nothing happened. He mentioned that he and all his data scientists will attend the next event. I think this is a great summation of what we have done here. We have created a paradigm shift in the for-pay conference market in Boston."
While planning an event in a new city has its challenges, finding a supportive host for the conference made the process much easier. MinneAnalytics found this in Boston University Questrom School of Business.
"Boston University's Questrom School was impressive—the people and the facility. Everyone was so helpful, friendly, and welcoming," said Graeme Thickins, MinneAnalytics board member and Startup Showcase session chair. "People sincerely seemed to appreciate us coming to their city to do the event."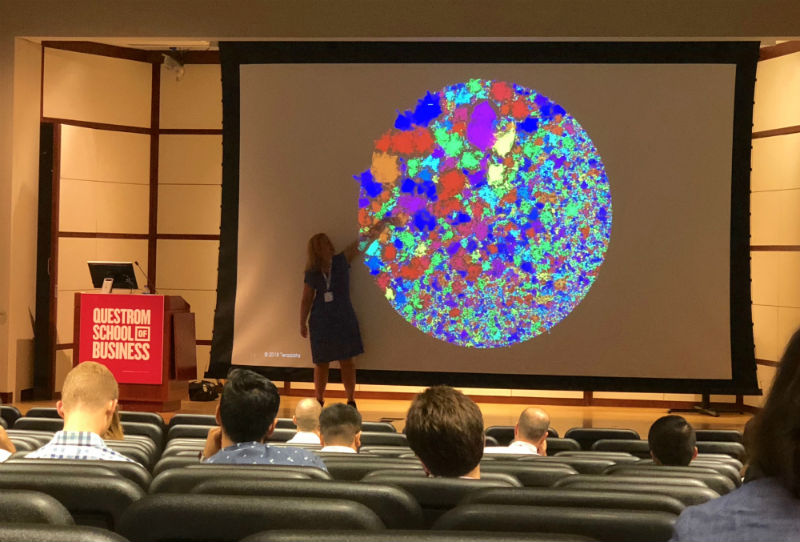 Sessions ranged from the highly technical to the business-oriented, and Boston lived up to it's spot as the number one city for educational attainment, with many speakers coming from academia. Popular sessions included HealthDataViz Co-Founder Kathy Rowell's presentation on understanding visual intelligence, as well as MIT Sloan Professor Alex 'Sandy' Pentland's session "AI+Blockchain+Human: Things You Didn't Know Could Be Done."
"I had the pleasure of hosting another Startup Showcase, this time featuring five great startups doing something interesting with AI or machine learning," said Thickins. "Two were super-passionate BU student startups! Another, Riff Learning, was a spin-out of MIT Media Lab. Yet another, RAIOS.ai, came out of stealth to present for the first time publicly. And Sunrise Health, which turned out to have ties to Minneapolis, announced it had just raised a $2M seed round. All these founders did an amazing job, and were very thankful for the opportunity to present."
Thank you to all of the speakers, participants, volunteers and sponsors for helping make our first Boston event a success. Special thanks to Boston University Questrom School of Business for hosting. Many of the presentation decks from the event are available here.
"It went incredibly well for a first-time conference," said Dan Atkins, MinneAnalytics executive director and MinneBOS conference chair. "Thank you to the Boston community for the warm welcome."