The analytics community was out in full force last Friday for our second SportCon. More than 1,300 registered or joined the waitlist for the Feb. 2 event at Optum, Eden Prairie, featuring more than 80 top experts from pro sports, academia and tech. Speakers included representatives from many of our local pro sports teams, including the Minnesota Twins, United FC, Vikings and Wild.
This year's schedule boasted 45 sessions, including nine panel discussions with all-star lineups. Panels covered topics ranging from Fantasy Sports to Player Injury and Recovery, as well as a Live Action Video Sports panel featuring live drone racing.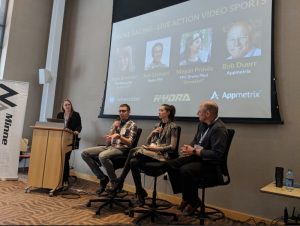 "Events like SportCon help showcase the amazing talent and work going on in various industries across the Twin Cities," said Ashley Stadler Blank, SportCon co-chair and assistant professor at the University of St. Thomas who focuses in sport marketing. "Ultimately, our goal is to draw attention to the importance of analytics in business and raise the analytics bar in Minnesota."
Survey results indicate this is one of our most well-received conferences so far, with nearly 92% of respondents rating the experience as "excellent" or "very good." Popular sessions included Digital Mortar CEO Gary Angel's talk on fan segmentation, as well as Centriam Director of Anaytics and Data Science Ian Sherman's session on picking the perfect bracket to win your March Madness pool. Another highlight was the ever-popular Startup Showcase, which featured pitches from ten startups.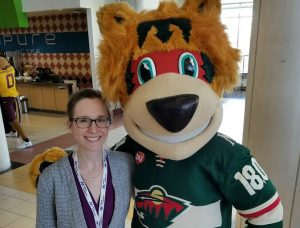 "In addition to four promising Minnesota startups, we were delighted to welcome six from out of state, one of which had a Minneapolis cofounder, so the reputation of MinneAnalytics continues to spread," said Graeme Thickins, MinneAnalytics board member and entrepreneur coach who organizes the startup showcase sessions. "We had a couple of startups that are just beginning to seek outside funding, all the way up to two that have already raised more than $5 million each."
Thickins left the Startup Showcase with a clear takeaway: "Data and analytics is at the very heart of sports-tech today."
Many presentation decks from the event are available to view here. Recording was limited, but videos from the Startup Showcase are posted at TECHdotMN.
Thank you to the speakers, sponsors, participants and volunteers for helping us knock this one out of the park. Special thanks to our conference Co-chairs; Ashley Stadler Blank and Alex Ryan, and Vice chairs; Randy Istre and Glenn Trygstad.