We are pleased to introduce 25 of the students awarded the MinneAnalytics Scholarship in 2020. Scholarships are awarded to undergraduate students who display a passion for pursuing a career in analytics and a commitment to engaging with the community. Congratulations to all of this year's excellent recipients!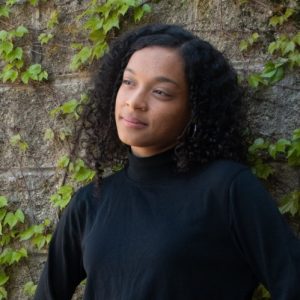 Avriana Allen
Northwestern University, School of Statistics
Avriana Allen is a senior majoring in statistics and journalism with a minor in creative writing. She has explored multiple government data sets including Los Angeles Crime data and Residential Energy Consumption Survey to answer questions about crime rates, energy expenditure and loan repayment. In the future, she hopes to combine data science methods with statistical knowledge and journalism to bring information to the public. She is currently the Engineering Fellow at the Texas Tribune, a non-partisan, non-profit news organization.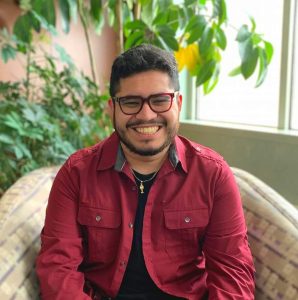 Erick Castellanos
University of St. Thomas, Data Analytics
Erick Castellanos is a first-generation student at the University of St. Thomas pursuing a degree in Data Analytics with a concentration in American Politics. Erick demonstrates his passion for data and leadership in both his curricular and extra-curricular activities. He holds club board positions within the Asian Students in America, Hispanic Organization for Leadership and Achievement, and Diversity Activities Board organizations. With a Data Analytics degree, Erick hopes to achieve his dream of helping others and pursuing truth by telling stories with data.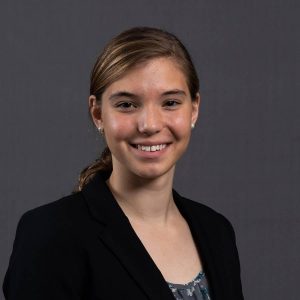 Maria Currie
South Dakota State University, Mathematics and Statistics
Maria is a double major in mathematics and data science. Her career goal is to help society by improving public education, health care, or our climate. She wants to know her work is making a real difference and is for a good cause instead of just a paycheck. Maria is a student-athlete for SDSU's Swim and Dive Team as a swimmer. She enjoys being a part of a team and working towards a common goal. She is also involved in SDSU through Hall government, App development club, and as a math mentor.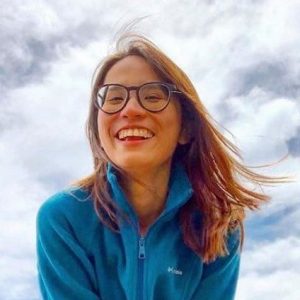 Ha Dahl
Metropolitan State University, Mathematics and Statistics
Ha Dahl is a rising college senior majoring in Data Science at Metropolitan State University. She chose to pursue data science because it is relevant to so many fields. She is especially interested in using data in public health and combatting the COVID-19 pandemic. In the future, she would like to create something amazing to give back to the community. In her free time, Ha enjoys cooking, kayaking, and doing Zumba and yoga. She loves being challenged and solving problems under pressure. "I'm grateful to be given the opportunities that I've had during my time at Metropolitan State University!"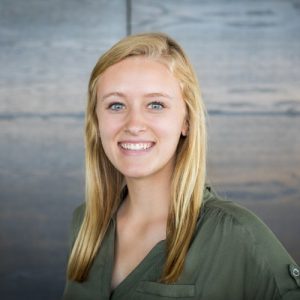 Kelly Flynn
University of St. Thomas, Economics Department, College of Arts and Sciences
Kelly is a junior at the University of St. Thomas studying Business Economics. She chose economics as a major because she is interested in learning how people make decisions and how to predict and understand people's behaviors. Over the last couple years, Kelly became very interested in learning more about data and different ways to use it. Last summer, she was a digital media intern at a local ad agency and became interested in how to use and analyze data with Google ads and analytics. Kelly is currently tutor in the economics department, works as a campus tour guide, and serves as the VP of Junior Achievement in the professional business fraternity, Delta Sigma Pi. This summer she will be interning with the Center for Education Reform, where she will learn more about research and data through working with policy, communications and government relations. She has always been very interested in studying and improving education, and hopes to work in a related field in the future.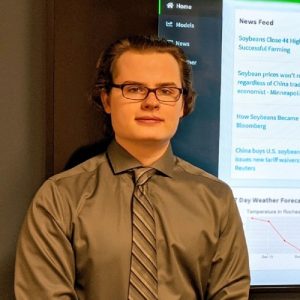 Jacob Gaylord 
Augustana University, Computer Science
Jacob is a senior at Augustana University majoring in Computer Science with a minor in Data Science. He chose Computer Science as a major because he enjoys the satisfaction of creating solutions to difficult problems. Augustana started their Data Science program during his junior year and he immediately added it as a minor. His interest in Data Science began in high school when he was on the debate team: "I found that my arguments were more convincing when they were backed up by data and I could explain how the data was gathered and analyzed." Jacob participated in the 2019 MUDAC and MinneMUDAC competitions where he learned how to effectively analyze data and communicate results. He is currently a computer and data science tutor for high school and undergrads and is looking for a future position after he graduates in May.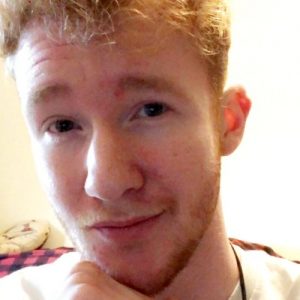 Dominic Hiland
Bethel University, Department of Mathematics, Statistics, and Computer Science
Dominic Hiland is a senior at Bethel University, majoring in Computer Science. Throughout his time here, he has demonstrated his drive to learn more beyond the class through participation in various extracurricular activities outside the classroom, such as the MUDAC competition (Spring 2019) and the ACM Programming Competition (Fall 2019). He hopes to graduate in Spring 2021 and plans to go onto graduate school, in a field like Artificial Intelligence.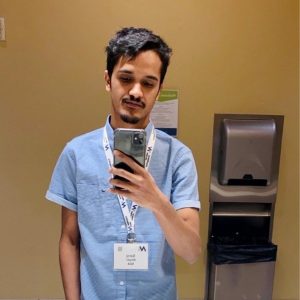 Saroj Khatri
Bemidji State University, Computer Science
Saroj is a computer science major, and a two-time MinneMUDAC competitor on Bemidji State University's Data Analytics team. A recipient of the Dean's List honor every semester of his college career and most recently listed on the Presidential Honor Roll, he plans to graduate in Winter 2020.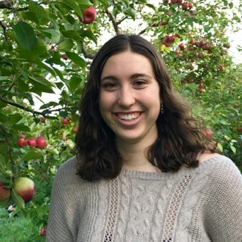 Jaylin Lowe
Carleton College, Mathematics and Statistics
Jaylin is a senior statistics major at Carleton College. After graduation, she plans to pursue a master's degree in statistics before pursuing a career in industry. Jaylin was drawn to the statistics major because she enjoys working with data and thinking logically, and she also thinks that statistics is vital to understanding our world and informing our decisions. Jaylin is an education fellow in the Center for Community and Civic Engagement at Carleton, where she has worked to improve equity in the Northfield and Faribault school districts. She has also worked as a consultant for Northfield Public Schools and the Community Action Center of Northfield, helping them harness the power of data to make mission-critical decisions. In the future, Jaylin hopes to use her statistical knowledge to tackle educational issues.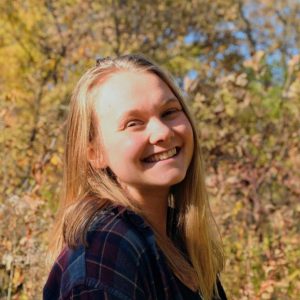 Grace Anne Ludvik
St. Catherine University, Dept. of Mathematics
Grace Anne is a public health major at St. Catherine University. After graduating, she plans to pursue a career as a Physician's Assistant (PA) and apply data analytics to provide quality healthcare. She is getting hands-on experience in data analysis through her participation in Summer Scholars. Starting in June, she will be performing a systematic review of research on homelessness with Dr. Meghan Mason and a team of researchers from across the country. Since transferring to St. Catherine University last fall, Grace Anne has actively sought to get involved with the community in meaningful ways. She works at the university's Center for Spirituality and Social Justice, as well as serving as a Peer Health Educator on campus.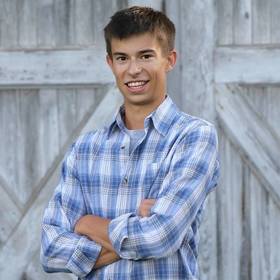 Brandon Mackai
College of St. Scholastica, Computer Information Systems
Brandon is majoring in Health Information Management with a minor in Computer Information Systems at the College of St. Scholastica. He plans to use data analytics in conjunction with his HIM degree to better patient well-being in a healthcare setting.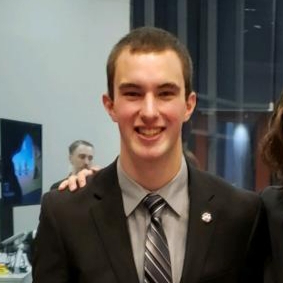 Greg Miller
Augsburg University, Mathematics, Statistics, and Computer Science
Greg Miller is currently a junior at Augsburg University in Minneapolis. He is a captain of the Cross Country team as well as a member of the Track & Field program. Greg is a math major with a minor in statistics. He also participates in the mathematics club at Augsburg. Interested in sport analytics, Greg has created interactive models of player salary and shooting effectiveness in the NBA and also made a prediction model of a player's points per game based on multiple factors. This summer he will be working with biological data to see if there is a gene in wild barley that makes it resistant to aphids.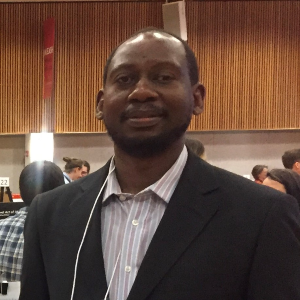 Muuzaani Nkhoma
St. Cloud State University, Department of Mathematics and Statistics
Muuzaani is a senior majoring in statistics with a concentration in data analytics and a minor in information technology security at St. Cloud State University. He has participated in both the MUDAC and MinneMUDAC competitions and has worked on the SCSU "Jail Team," analyzing data from the Stearns County jail system and reporting to county administrators. For the past year, he has also worked part-time in analytics and statistics for Medtronic.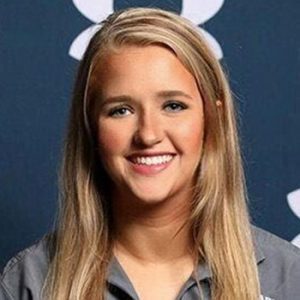 Jessica Patton
St. Mary's University, Bachelor of Arts in Business Intelligence
Jessica Patton, a senior majoring in finance and management, works four part-time jobs while in school. Despite her rigorous schedule, she still finds time to give back to the Winona community. As a member of the women's hockey team, she volunteers at the local animal shelter, works sporting events in the Twin Cities, and coaches hockey practice for local youth teams. Patton is also a member of the Habitat for Humanity Club, Student Senate, and Volunteer Mentors. After graduation, she plans to pursue a master's degree in servant leadership. Although she has always had an interest in data entry, analytics, and the programs used for these, Patton said giving back to others gives her a sense of self-satisfaction and a commitment to something greater.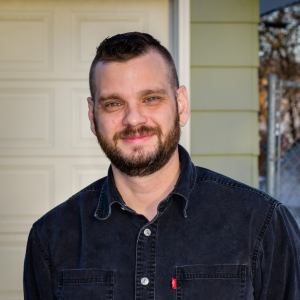 Nathan Peach
Normandale Community College, Math and Computer Science
Nathan Peach is a returning adult student. He has worked in retail, hospitality, IT, accounting, and most recently co-owned and operated a SCUBA diving business in Mexico. After some changes in his life, he decided to pursue a career in the emerging field of data analytics. While researching academic paths, he discovered that his first college, Normandale Community College, offered an Associates of Science in Data Analytics. He decided to work towards that degree before moving on to a bachelor's degree. While at Normandale in the fall of 2019, Nathan had the chance to compete in the MinneMUDAC competition sponsored by MinneAnalytics. He had this to say about his experience: "I think everyone going through a data analytics program should participate in a competition like the MinneMUDAC. It gives you a real-world problem in a domain that you may not be comfortable with. The experience you gain normally only comes from a work situation." Nathan looks forward to continuing his academic ambitions in Minnesota after spending one last winter in Mexico.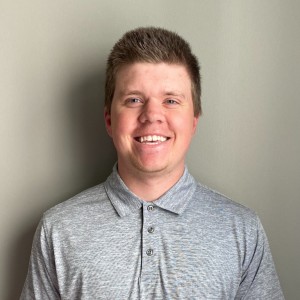 Jack T. Rogowski
College of St. Benedict, St. John's University, Mathematics
Jack is a junior at Saint John's University majoring in mathematics with a minor in economics. He chose mathematics as a major because math equations, theorems, and lemmas create scenarios where creative problem solving and analytical thinking must be used. His interest in analytics began when he completed an internship during his sophomore year with the Department of Human Services Licensing Division of the State of Minnesota. As a student data analyst, he used analytical tools like Tableau to present data and information in a way that consumers were able to understand. His favorite part of this internship was working with the head analyst on a public maltreatment dashboard for child care facilities in the state of Minnesota. During his time with the Department of Human Services Licensing Division he attended the Minneanalytics Data Tech conference at Normandale. This further opened his eyes to possible careers and professions within analytics and data science.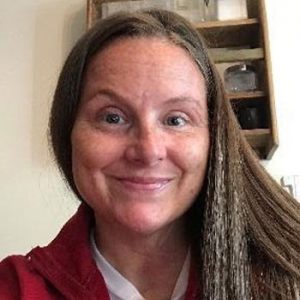 Kara Rudek
St. Mary's University, Bachelor of Science in Business Intelligence and Data Analytics
As a student at the University of Saint Mary's, Kara is on target to graduate in 2021 with a Bachelor's in Business Intelligence and Data Analytics. She hopes to use her degrees to create efficiencies and improve lives. During the COVID-19 shelter-in-place order, she spent most of her time guiding her two children through the remaining school year while completing her own coursework at Saint Mary's, studying for the PHR exam, making masks for the community, and becoming a Master Recycler and Composter for Dakota County. As a county representative, Rudek hopes to educate and inspire others to reduce waste and make the community better.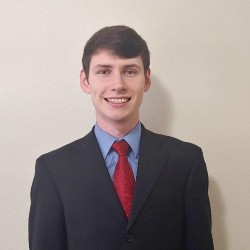 Igor Shevchenko
Crown College, Business and Sport Management
Igor was born in Minsk, Belarus. He currently lives in Ramsey, Minnesota. As a senior at Crown College, Igor is double majoring in business administration and marketing with a minor in data analytics. In addition to his schoolwork, Igor is very involved in life at Crown. He plays on the soccer team and has participated in the track team. As a resident assistant, Igor was chosen to attend a leadership conference with students from other Minnesota colleges. He also served on the Student Athlete Advisory Committee as an elected officer.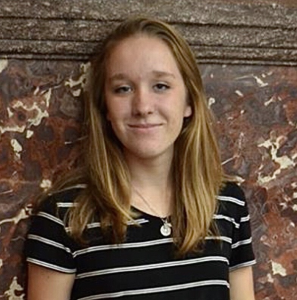 Cheyanne Simpson
University of St. Thomas, Department of Computer & Information Sciences
Cheyanne is a double major in Mathematical Economics and Statistics. She was a Summer 2020 intern at Allianz Life in St. Paul, MN where she was able to apply and advance her data science skills working in the hedging and general account areas. "Knowing how to use and manipulate the data you are given is the most important skill a student can learn these days," Cheyanne said. "In my internship, I learned that there can always be improvements in data collection, usage, and reporting."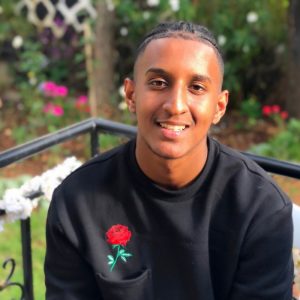 Christian Solomon
Minnesota State University, Moorhead, Computer Science and Information Systems
Christian Solomon recently graduated with a BS in Computer Science from Minnesota State University, Moorhead. He is eager to learn and develop new and advancing technologies.
Lucas Spellman
University of Wisconsin – La Crosse, Mathematics and Statistics
Lucas is a Statistics major at University of Wisconsin – La Crosse.  He is passionate about data science due to its versatility and wide range of applications. "Data science allows me to bring analytical thinking and problem solving to things that I am passionate about," Lucas said. He is specifically interested in the medical applications of data science and machine learning since this impacts the care that people receive when they need it.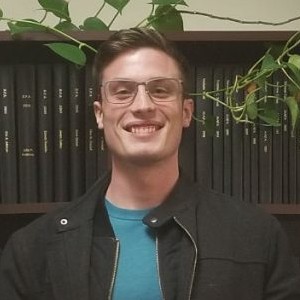 Devon Stuhlsatz
Hamline University, Hamline School of Business
Devon is pursuing his Bachelor of Business Administration in Business Analytics at Hamline University. "Devon is self-directed and self-motivated—he is curious to learn more, both in broadening the topics he wants to know about and in going deeper in the topics we teach in classes, such as machine learning approaches to analytics," says John Lochner, Director, MBA program and MSBA Program at Hamline University School of Business. "He's participated in MinneMUDAC and MUDAC competitions, mentors other students, and has maintained a very high GPA."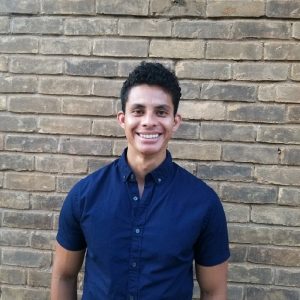 Cesar Vega
Minnesota State University, Mankato, Twin Cities Engineering Program, Department of Integrated Engineering, College of Science Engineering and Technology
Cesar is completing his junior year at the Twin Cities Engineering program of Minnesota State University, Mankato. He plans to complete a major in Integrated Engineering with a focus on Electrical Engineering. He hopes to couple a strong engineering background with analytics to solve challenges. His latest school project involved augmented reality in a manufacturing setting, and making well-informed data-based decisions was critical to success. "I hope to be able to serve my community through my career as an engineer sometime in the future and help the less fortunate and under-represented social groups in the way I have been helped."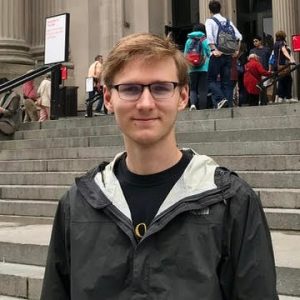 Simon Wagner
University of Wisconsin – La Crosse, Mathematics and Statistics
Simon Wagner is a junior at the University of Wisconsin-La Crosse where he is majoring in both Computer Science and Mathematics. His passion for science and technology started at a young age and was well-fostered by his parents and family. Simon aspires to pursue a career in Computer Vision and its many applications to the healthcare industry. Currently, he is working as a Machine Learning Intern at the U.S. Geological Survey. There, he develops algorithms to analyze high-resolution aerial imagery for use studies in population, migration, and environmental. In his free time, he enjoys playing the piano and guitar. He is also passionate about cooking and hopes to one day be known for the best pizza and pasta around.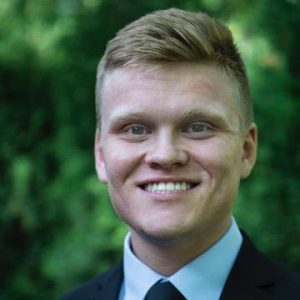 Noah Wleczyk
University of Wisconsin – Eau Claire, Management and Marketing
Noah is a senior at the University of Wisconsin-Eau Claire studying marketing analytics and advanced business communication. Noah has a strong interest in both marketing and analytics, and the combination of the two is why he chose this major. In the future, he hopes to leverage his creative marketing skills and data analysis to create new insights about consumer behavior. In his free time, Noah enjoys being active, watching the Green Bay Packers, and learning new things in Adobe Creative Suite. Noah also has a strong interest in nutrition and spends a lot of time learning how different foods affect the body. If Noah had to choose a favorite memory from college, it would be his study abroad experience in India. While in India, Noah completed various projects that addressed the United Nations sustainability and development goals. Other than the people he met, Noah says the thing he misses most about India is the spicy food.