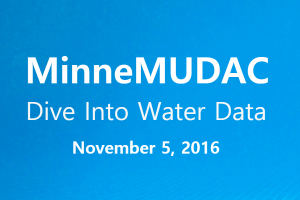 MinneAnalytics is proud to announce that more than 200 students from 21 colleges and universities are registered to participate in MinneMUDAC: Dive Into Water Data, Nov. 5 at Optum, Eden Prairie, Minn.
This unique event invites undergraduate and graduate students to explore Minnesota water data and its impact on the community. Nearly two dozen colleges and universities are represented among the participants, including schools from Iowa, North Dakota, South Dakota and Wisconsin.
Student teams compete for cash prizes and receive valuable feedback from experienced professionals, all while working to make a meaningful impact through data analysis. The event also features a career fair giving students the chance to interact with local organizations and gain real-world connections. 
Opportunities to serve as a judge are still available, and organizations are also needed to engage with the students at the career fair. Visit minneanalytics.org/minnemudac to learn more about this unique opportunity.   
MinneMUDAC: Dive Into Water Data is presented by MinneAnalytics, Midwest Undergraduate Data Analytics Competition (MUDAC) and Social Data Science. For more information, contact education@MinneAnalytics.org.