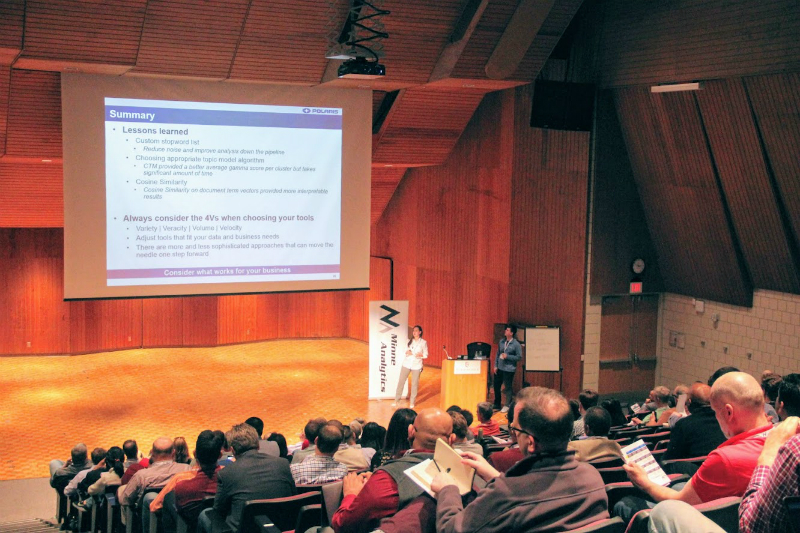 For a fifth consecutive year, the MinneAnalytics community came together at Normandale Partnership Center on May 30 for Data Tech, our practictioner's field guide to data science and emerging tech. More than 1,900 people registered or joined the waitlist for the conference, which featured 63 unique sessions for participants to choose from.
"If there's one lesson from the fifth year of Data Tech, it's that advanced analytic techniques are out of the laboratory and integrated into the critical business workflows at the most successful Minnesota companies," said Daniel Feldman, a co-chair of the event. "From Polaris, which uses natural language processing to interpret and categorize customer feedback, to Infinite Campus, which predicts drop-out risks for millions of K-12 students, the technologies we've seen evolve over the last five years are now ready for prime time."
According to Feldman, many of these projects are developed in Python, a topic that was featured in several of the day's sessions. In addition to use cases and technical deep-dives, other sessions focused on sharing these useful tools with business colleagues.
"I particularly liked Evangelizing Python for Business, by Katie Kodes and Chris Moffitt," said Jake Mason, another co-chair of the event. "The two did a wonderful job walking us through their successes and failures when teaching others new technology."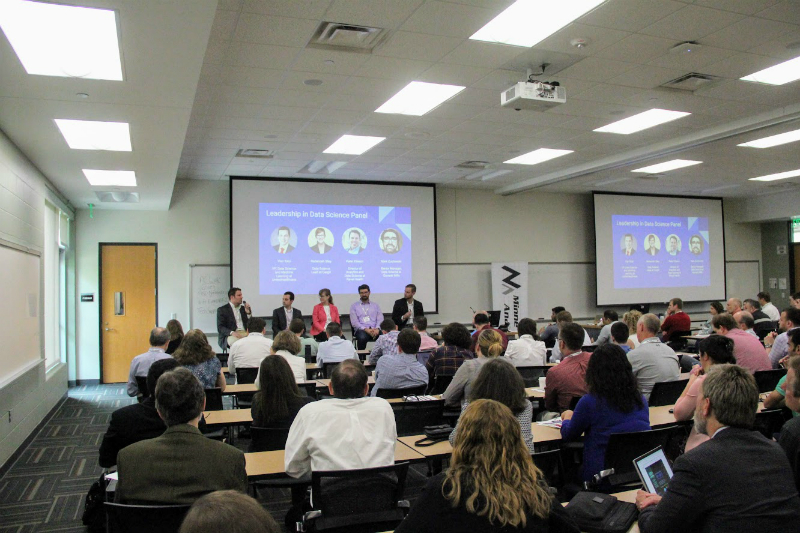 Data Tech also featured higher-level discussions, such as the Leadership in Data Science Panel, as well as a bird's eye view of where technology is heading during The Pace of Tech is Accelerating with Gene Munster of Loup Ventures.
"This event helps bring together such a diversity of talent from a wide variety of industries, which really helps to keep everyone aware of what's happening across the data-tech landscape," said Mason.
The conference put the spotlight on innovative startups in the data and AI space during the morning Startup Showcase session. Seven startups pitched their ideas and took questions from the audience; four from Minneapolis, one from St. Paul, one from Rochester, and one from Provo, UT.
"The Startup Showcase session again drew excellent attendance, including many investors," said organizer Graeme Thickins. "We have now featured 101 startups pitching in 13 startup showcase sessions since our very first one in 2013. And most of them, we are proud to say, have gone on to achieve success in many ways."
During the session, attendees packed the room to hear an Alumni Panel featuring three serial entrepreneurs who had pitched at previous Data Tech events, in 2017 and 2018: Scott Burns of Structural, Dan Mallin of Equals 3, and Daren Klum of Secured2.
"They were a big hit," said Graeme. "Our sincere thanks to them for sharing their wonderful founder stories."
Thank you to all of the speakers, participants, and volunteers who made this conference a success, including event chairs Daniel Feldman, John Hogue, Sean Larson, and Jake Mason. Special thanks to our excellent sponsors for making it possible. Many of the conference presentation decks, including startup pitches, can be accessed here.