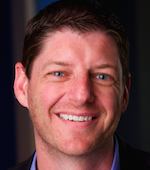 We're delighted to announce that Paul Roetzer will be the morning keynoter at our Marketing Analytics conference on September 30.  Paul is the author of a brand-new book, "The Marketing Performance Blueprint," which he launched with a keynote at the sold-out MarTech conference held recently in Boston. Paul is CEO of PR 20/20 in Cleveland, a firm he founded in 2005. He has consulted for hundreds of
organizations and is the creator of Marketing Agency Insider and Marketing Score. He's a regular contributor to leading marketing industry blogs, and a frequent speaker on agency management, content marketing, inbound marketing, marketing measurement and performance, public relations, social media, and strategy.
His new book is all about "what's possible when the art and science of marketing collide."
Here's a great blog post by Scott Brinker about Paul and his new book: Modern marketing is for underdogs and innovators — and marketing technologists. More about Paul here on Twitter and LinkedIn.
We're really excited that Paul is coming to Minneapolis! We hope you can join us at the MAMA event ("MinneAnalytics does Marketing Analytics") on Tuesday, September 30th. (The Twitter hashtag is #MAMAmn.) Register on our Eventbrite page if you haven't already done so!